This thread will show me puttering around making bucks for my 1934 417W Hupmobile. I'm working my way up to making some front fender bucks.
I started off with making one for the gas tank as it seemed fairly easy and I wouldn't be out a big piece of plywood if I made a mistake. The materials I am using are 3/4" purebond aspen and 1/4" revolutionary plywood. The aspen is good but the faces are a bit fuzzy. The revolutionary plywood smells funny and dusts quite badly when sanding. I'll have to get a mask as there is quite a bit of sanding involved... If I were to make the gas tank buck again I would start off with splitting the tank and straightening it out. The top half is all sectionalized as I was playing around with my Kreg Jig but that clearly is not necessary and will make it difficult to make the lightening holes when the time comes for that. I also set the buck up so that I can add as much depth to it as I want to up the capacity above the original 15 gallons.
One of the photos in the photobucket album shows the tools I am using. I am actually using someones shop during the evenings so it's mostly just cordless tools and the fold up table. I find the table is a great investment but it's a bit too narrow to support full with pieces of plywood and is also hard to clamp to so I lay some 2x4s across it. This supports the edges of the plywood and allows the use of a square to take positions without the plywood bending and throwing the square out of plumb.
The rear fender is going to have a lot more templates than the gas tank but won't be anywhere near as complex as the front fenders. Heck, I have two NOS rear fenders so I don't even need this buck but it will be good practice. This buck is inspired by Ron Covell's Fender DVD but has a twist. The backbone of my fender has two jogs in it and the fender does not sit flat against the table. I stuck a 3/4" piece of plywood under the fender to take the measurements...hopefully this works out and doesn't end up in lost time. I've taken a lot of measurements and it's now time to make a cut around the outer edge but I want to retain the bottom material on the inside of the wheel arch. This will prove difficult since I want to use this piece as a "master" piece and use it to make patterns.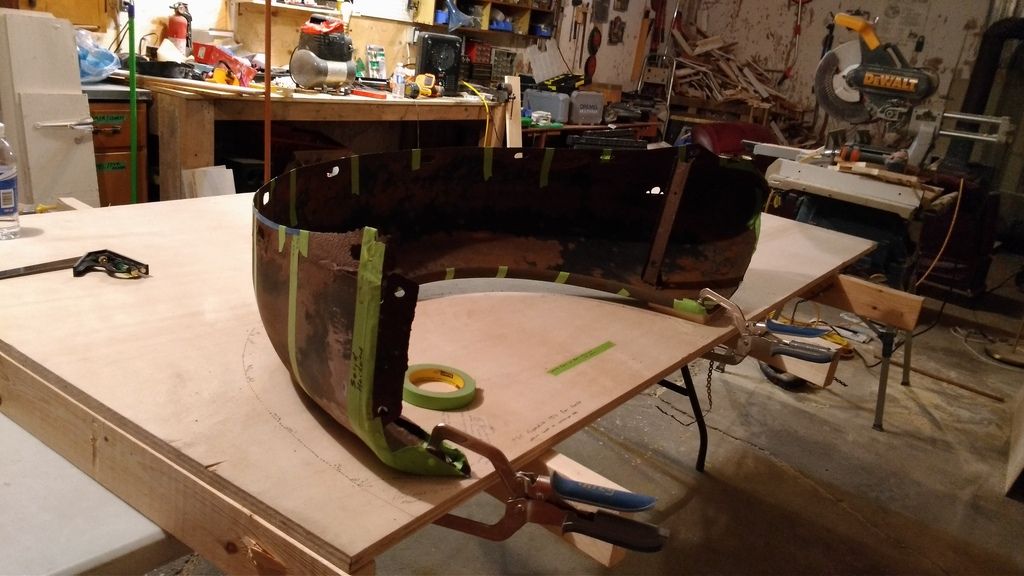 Any suggestions and comments would be appreciated, especially if I am working myself into a corner.

I'm not sure when the metal working will take place, I am not permitted to have an open flame or sparks in this shop.
Cheers, Steve